Award-winning Developer RMS Companies Releases First Images of New Residential Community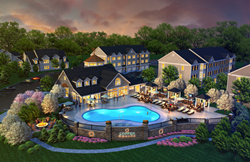 Bethel, CT (PRWEB) March 05, 2014
This week, RMS Companies released the first images of their exciting new development, Copper Square Residences, now under construction right off I-84 on Route 6 in Bethel, CT. Starting in the $ 300s,Copper Square will be within reach for homebuyers from more than just a location standpoint. We wanted to make sure that these homes would offer everything todays buyer is looking for, says Randy Salvatore, founder and owner of RMS Companies. Traditional craftsmanship, modern amenities, terrific location and even more rare today, an attainable price point.
Even with the convenient location, theres little reason to leave at all given whats right on-property at Copper Square. Amenities such as Club Copper with an impressive kitchen for entertaining, a cappuccino bar, fireside lounge, iMac bar, billiards, screening and theatre room with a 120 screen and surround sound all with wireless internet connectivity. Theres also In-Motion Fitness with wellness equipment and 24-hour access. Step outside to find the spa-inspired Elements Pool Deck with luxurious cabanas, outdoor bar and grills, and Center in the Square with circular fireplace. Everything is designed to fit the lifestyle of modern Connecticut residents while creating a real sense of community.
The homes are built with integrity by Fairfield County-based RMS Companies. RMS, an award-winning developer, is well known for their numerous residential communities as well as for their modern Hotel Zero Degrees properties in Stamford and Norwalk, in addition to quality of construction, and a next-generation vision for new communities. While the architecture is classically inspired, the uniquely designed interiors are full of well-appointed selections. Features include a variety of open floor plans, private entries with airy spaces and high ceilings, beautiful granite kitchens with stainless steel appliances, large master suites, many floor plans offering home office, loft space and entertainment rooms, one- or two-car garages, and so much more.
As the tagline In your element implies, Copper Squares central location, lifestyle-driven amenities, quality construction and affordability will provide whatever it is that any homebuyer is seeking.
For more information, visit and http://www.LiveatCopperSquare.com or call Director of Sales, Sharon Kamhi, at 203-778-4800 to schedule an appointment to be among the first to call Copper Square home. Visit RMS Companies at http://www.RMS-Companies.com.
Support This Blog By Visiting Sponsor Blog related to pInNaClE SportS :
pInNaClE SportS